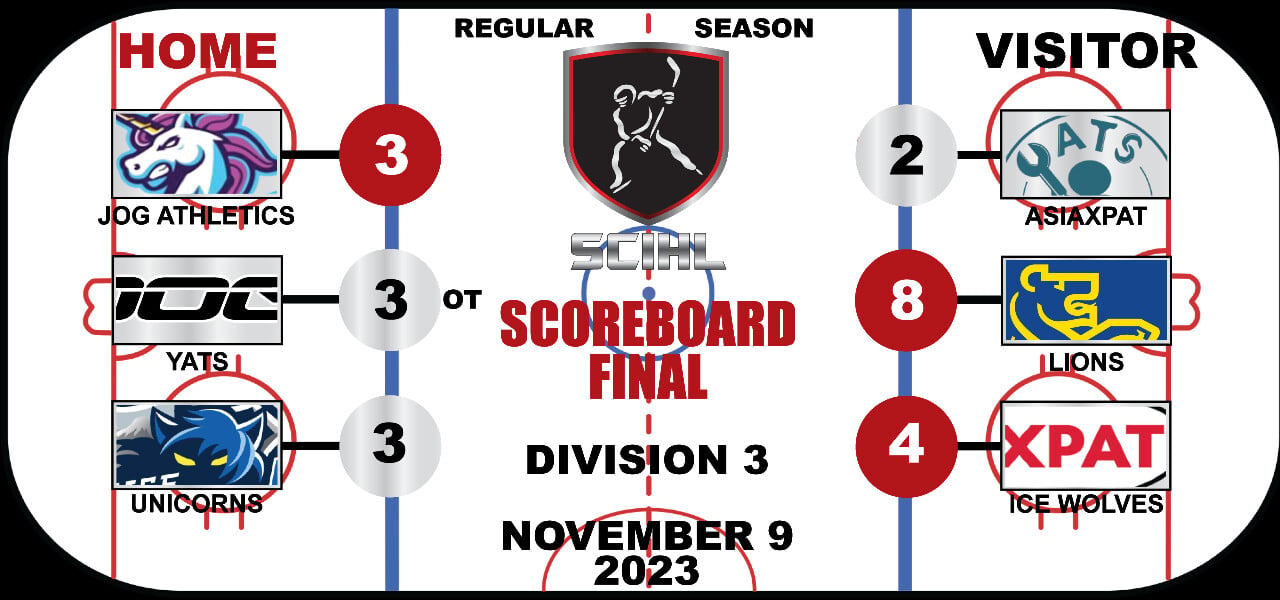 SCIHL Division 3 - Week 4 Scoreboard
November 10th, 2023
Still looking for first point
This matchup between Unicorns and YATS Engineers looked like an early fight for the final playoff spot as YATS came into the game winless this season, while Unicorns only recorded their first win the previous game.
Pregame scouting put the advantage to YATS this game with the Unicorns missing 2 of their top players in Andrew Rueger and Grant Phillips, and this proved to be the case as YATS came out and stormed the Unicorns from the opening faceoff.
The zonetime for YATS was about 95% for the period and while they weren't shooting very often, the chances they took were all high-percentage shots only to be stopped by Arthur Chan. Midway thru the first, with the Unicorns killing a penalty, Kenyon Tse lobbed a puck from centre ice into the YATS zone to clear the puck, only to have it take an unfortunate bounce off Fok's stick and into the net to give Unicorns a 1-0 lead with a short-handed goal.
Shortly after Brendon Lui had a shot stopped by Chan, with the rebound going to a wideopen Art Tam only to be denied by Chan as he dove back across to take away a sure goal. This continued thru the first, and after being outshot 8-1, the Unicorns took a 1-0 lead out of the first period.
This pattern continued thru the second, and it wasn't until the end of the 2nd period did YATS solve Chan as Theo Wong put in his 5th of the season to tie the game. YATS outshot Unicorns 13-3 in the 2nd period with Chan continuing to hold the fort while the Unicorns played a strong team defensive game.
In the 3rd period, YATS continued to press, and Brendon Lui scored off the faceoff to give YATS their first lead of the night. However, the lead was short lived as on the next play, while YATS were pressing, Leon Mo stole a loose puck and outraced the YATS D to score a breakaway goal on Fok tying the game again. A few minutes later, Bo Feng cleared the puck out with Mo again behind the YATS D and converting his 2nd breakaway to give the Unicorns the lead back. Although YATS threw everything they had in the final few minutes, they were
unable to come up with an equalizer.
Arthur Chan (Unicorns) had a busy night facing 30 shots while Stephanie Fok (YATS) faced 9 shots.
Three Stars of the game:
1. Arthur Chan (Unicorns)
2. Leon Mo (Unicorns)
3. Brendon Lui (YATs Engineers)
Lions continue to roar
JOG Sports looked to try and slow down the RBC Lions train after having a decent start to the season just training RBC by 1 point coming into this game. However, RBC didn't get the message.
RBC just continued from last game and used a combination of speed and passing to put pressure on JOG early on. After a few good chances turned away by Loron Orris, an unassuming shot by Jovi Wat from the side wall caught a screened Orris by surprise as it found its way thru the 5-hole. 1-0 RBC. JOG tied it soon after hard work by Alan Lui behind the net forced a turnover to Jason Yip, who made a slick pass to a wide-open Hugo Fan on the left side of the net to tie the game 1-1.
On the ensuing play, Wat skated up the ice uncontested and released a shot at the top of the circle that evaded Orris to regain the lead. A few minutes later, Fabrizio Fanta couldn't get a shot off in front of the net but was able to bank it off Orris' back after going by the goal line to get his first goal of the season and giving RBC a 3-1 lead after the first period.
Although the 2nd period was more equally played, it was only RBC that could score. Wat completed his hattrick midway thru the 2nd period and Karl Mok tallied a couple minutes before the end of the second to give RBC a 6-1 lead. JOG looked like they went into intermission early as they allowed RBC to walk in and Charles Liu added another to give RBC a commanding 7-1 lead with just 16 seconds left in the 2nd.
It looked like that was it, as JOG started getting into penalty trouble in the 3rd, but Jason Yip made a determined effort to score a short-handed goal to make it 7-1. A few minutes later, he did it again and got his 2nd shorty of the night after being freed up by a Hugo Fan pass. Unfortunately for JOG that was all the scoring for them today, and Wat rounding out the night with one more just 50 seconds left in the game for this 4th of the night.
Loron Orris (JOG) had a busy night facing 28 shots while Keira Mok (RBC) was steady facing 13 shots.
Three Stars of the game:
1. Jovi Wat (RBC Lions)
2. Jason Yip (JOG Sports)
3. Fabrizio Fanta (RBC Lions)
Finding Josh
AsiaXpat has been strong so far this season having only lost to first place RBC, while Ice Wolves have struggled early this season only winning 1 game. However, Xpat were missing their leading scorer, Alvin Sham out with the flu, while Ice Wolves also lost Chris Wettling and Jerome Lui, making the outcome anyone's game.
Although Xpat lost Sham, they did welcome Michael Lam back into the lineup, which was a relief to GM Paul Chai as it meant they had more options.
The first period was closely played with few chances given by both teams. Shots were only 4-3 for Ice Wolves, as chances were few and far apart. Both Martin Jim and Moses Fung (LPP), standing in for Jerome Lui, looked sharp when tested.
Early in the 2nd period, Josh Steinhaus fired thru a crowd to open the scoring, followed closely by Captain Paul Chai as he finished a nice pass from Jimmy Thai to give Xpat a 2-0 lead. Hard forechecking by Ice Wolves line of Finifter, Lee, and Ang, was finished off as Warren Ang buried a rebound by Jim. Near the end of the 2nd, Niel Ng was able to find Josh skating down the wing and he wired a slapshop by Fung to give Xpat a 3-1 lead after 2.
Early in the 3rd period, Patrick Costello had the open side and was only prevented from scoring his first of the season by an amazing skate save as Moses Fung slid across the crease to keep it close. However, Michael Lam made his presence felt as he gave Xpat a critical 4th goal with a hard backhand from the top of the slot and by a screened Fung 4 minutes in to give Xpat a 4-1 cushion. No chance for Fung on the play as Xpat had a ton of bodies in front of the crease.
The Ice Wolves continued to press in the 3rd and owned the play towards the
end of the game but were unable to solve Jim until the last minute when Hamish Pang scored with the goalie pulled with 50 seconds remaining, and after Ice Wolves pulled the goalie again, Derek Hu scored to make it 4-3 after taking a 3rd shot from the left side with just 16 seconds remaining. But it was too little too late as AsiaXpat were able to hold on at the end after running out of gas in the 3rd and almost allowing Ice Wolves to come all the way back.
Martin Jim (AsiaXpat) faced 20 shots while Moses Fung (LPP) (Ice Wolves) faced 16.
Three Stars of the game:
1. Josh Steinhaus (AsiaXpat)
2. Michael Lam (AsiaXpat)
3. Derek Hu (Ice Wolves)
UPCOMING GAMES - November 16 @ Mega Ice
Game 1: AsiaXpat vs RBC @ 8:30pm
Game 2: Unicorns vs JOG @ 9:30pm
Game 3: YATS vs Ice Wolves @ 10:30pm
Remember to find us on:
1. Facebook - SCIHL League (submit a friend's request)
2. Twitter - @OfficialSCIHL
3. iPhone & Android App - "SCIHL" (pull down the screen a few seconds for updates)
For the latest scores, statistics, and game schedule.
4. Instagram - SCIHL
5. Website -
www.SCIHL.com