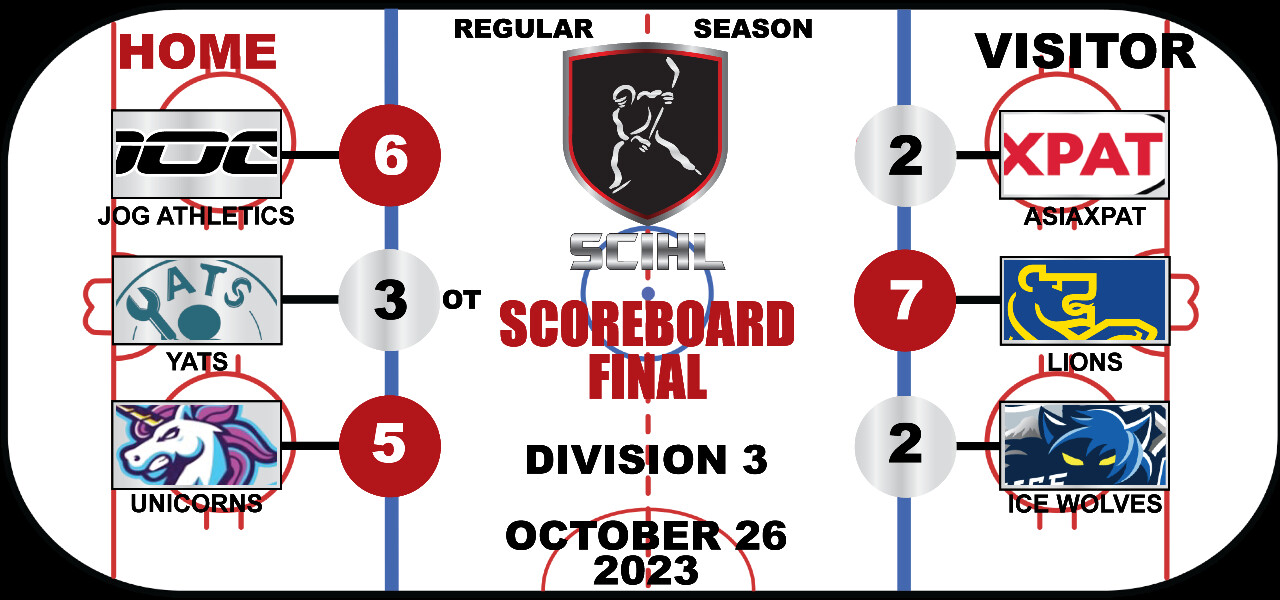 SCIHL Division 3 - Week 3 Scoreboard
October 27th, 2023
3 weeks done - 14 to go... Lions climbed to 3-0, Unicorns got their first win of the season while YATS Engineers are going back to school to see how they can 'engineer' a win as they are winless in 3.
Battle for 2nd behind RBC
The matchup between JOG Sports and AsiaXpat seems like the battle for 2nd behind RBC this season based on the strong play shown by both teams so far.
After a tight checking first half of the period, Leon Mo (LPP) opened the scoring for JOG. A minute after, Allan Yee responded for AsiaXpat only for them to give up another goal to JOG in the following shift as Alan Lui scored his first of the season to regain the lead for JOG. 2-1 after one.
AsiaXpat looked like a different team this week with leading scorer Alvin Sham out of the lineup and the lack of secondary scoring showed. Mo opened the second period with a breakaway, deking Martin Jim out of his shorts for his 2nd of the game. Not long after, Mo completed his hattrick one timing a backdoor play when JOG's Donald Chow made a beautiful pass from the point for Mo to finish. 4-1 JOG until Justin Wong in a solo effort put one by Orris to make it interesting. 4-2 now. But Jason Yip scored a short-handed goal with just 5 seconds left in the 2nd was the final nail in the coffin.
JOG continued to dominate the 3rd period and Orris shut down any chance that came thru to close out the game.
Martin Jim (AsiaXpat) had a busy night facing 33 shots while Loron Orris was solid facing 20 shots.
Three Stars of the game:
1. Jason Yip (JOG Sports)
2. Donald Chow (JOG Sports)
3. Loron Orris (JOG Sports)
Glimmer of Hope
RBC Lions looked set for a buffet tonight against YATS given RBC is undefeated and outscoring teams by a wide margin early in the season, while YATS Engineers have had trouble both lighting the lamp, and keeping the other teams' offensive opportunities in check.
Just 1 minute in, Calix Ma opened the scoring after a nice 3 way passing play between Karl Mok, Jovi Wat, and Ma. According to script and looked to be a very long night for YATS.
However, that was basically the only good chance RBC had in the first period, as YATS played a tight checking game clogging up the middle preventing the speed of the youngsters from penetrating the house and keeping most shots to the outside. Instead, they created more chances than RBC, and Bonnie Lui finally tied it with her first of the season, and in her first game of the season. Just a couple minutes later, a streaking Justin Kuok put another by Kiera Mok. YATS outshot RBC 14-8 in the first and came out of the period with a 2-1 lead. The first period this season that RBC was outscored or outshot for that matter.
After an excellent first period by YATS, either RBC changed their approach, or YATS ran out of gas as the 2nd period looked completely different. YATS lost their solid positioning from the first period, and this allowed Jovi Wat to pick them apart. Although the shots were even at 12, YATS allowed Wat to skate in and get a natural hattrick nicely spaced out through the 2nd period. RBC retaking the lead 4-2 after 2 periods.
RBC continued the pressure in the 3rd as YATS gambled to get back in the game exchanging chances with RBC. They got their chances, but RBC converted on theirs. Charles Liu in his first game back with RBC getting his first 2 goals of the season (the second one unassisted on the powerplay). Theo Wong got one back for YATS, but at this point it was too little too late as Jovi Wat rounded out the scoring with his 4th of the night.
Today's game gives a sliver of hope to the other teams if they can stay to their game plan for a full 3 periods, and if so, then they may be able to stay with RBC this season.
Stephanie Fok (YATs Engineers) faced 31 shots (an average night backstopping YATS) while Keira Mok (RBC Lions) had an unusually busy night having to face 35 shots and playing a big part of RBC's win tonight (compared to 30 shots in total from the first 2 games).
Three Stars of the game:
1. Charles Liu (RBC Lions)
2. Calix Ma (RBC Lions)
3. Karl Mok (RBC Lions)
Early battle for the last playoff spot
Although its early in the season, based on the games so far, this looked to be a close contest and an early match up for 4th and a chance to get more buffer above YATS who had yet to get a point this season. And the game did not disappoint. A tight checking affair as the Unicorns limited the Ice Wolves to only 4 shots on goal even after being on the penalty kill twice, while getting 8 themselves. Both goalies looked sharp and it was only Andrew Rueger continuing his goal streak with a top corner finish past the glove of Jerome Lui as the
only goal for Unicorns. 1-0 after 1.
This continued in the 2nd period with chances even at 8-7 and again, the only goal when Leon Mo - continuing his breakaway success on the evening with another (something he's had trouble converting in the past) giving the Unicorns a 2-0 lead after 2.
But just 2 minutes into the 3rd, Derek Hu finally solved Arthur Chan to draw the Ice Wolves back. But just a few minutes later, a beautiful give and go play between Mo and Grant Phillips using the full width of the rink, as Phillips made a cross ice pass from his side of centre to a streaking Mo down the left boards stretching apart the Ice Wolves defense. As they tried to recover, they left Phillips wide open in the slot to fire a one timer past Liu's blocker when Mo put it right in his wheelhouse. Looked like the Unicorns were going to pull away, but Derek Hu picked up his 2nd of the game, finishing a nice pass from Hamish Pang.
As it looked like the Unicorns were going to let this one slip away again, Tracy Wong took the reins and gave the Unicorns an insurance goal with just 4 minutes remaining in the game. Ice Wolves continued to press and pulled their goalie, but the Unicorns finally put it away with an empty net goal as they won a defensive zone faceoff and Mo lobs one down the ice making no mistake. 5-2 final for Unicorns.
Arthur Chan (Unicorns) faced 20 shots while Jerome Lui (Ice Wolves) faced 21.
Three Stars of the game:
1. Tracy Wong (Unicorns)
2. Leon Mo (Unicorns)
3. Derek Hu (Ice Wolves)
UPCOMING GAMES - November 9 @ Mega Ice
Game 1: Unicorns vs YATS @ 8:30pm
Game 2: JOG vs Lions @ 9:30pm
Game 3: Wolves vs AsiaXpat @ 10:30pm
Remember to find us on:
1. Facebook - SCIHL League (submit a friend's request)
2. Twitter - @OfficialSCIHL
3. iPhone & Android App - "SCIHL" (pull down the screen a few seconds for updates)
For the latest scores, statistics, and game schedule.
4. Instagram - SCIHL
5. Website -
www.SCIHL.com