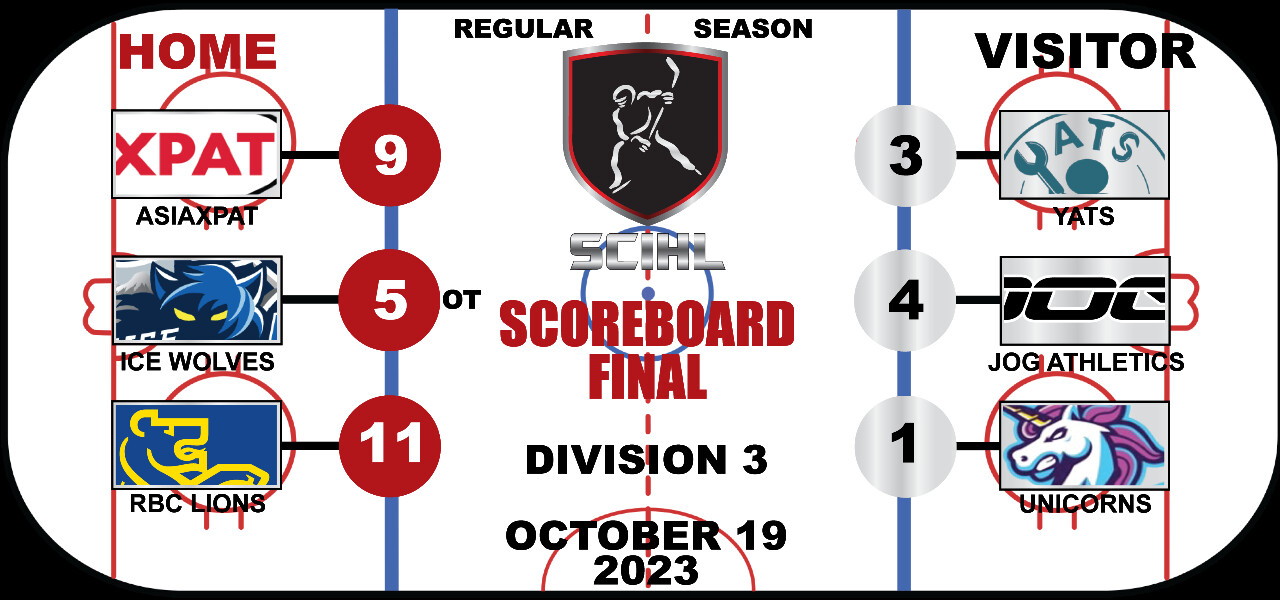 SCIHL Division 3 - Week 2 Scoreboard
October 20th, 2023
Week 2 is the books... Lions and AsiaXpat are both 2-0 and have scored a combined 38 goals in two games... bad news for rest.
Work in progress
YATs coming off an 8-3 opening loss, were looking to improve defensively and reduce the breakaway opportunities given up, and it was going to be a major test facing AsiaXpat and Alvin Sham who had a number of breakaway goals in his opening game last week.
But it didn't take AsiaXpat long to open the scoring just under 2 minutes into the game as Sham made a nice pass to Jimmy Thai who made no mistake for his 2nd goal of the season. YATS replied when Shane Weir put in a loose puck to the side of Martin Jim after some good forechecking from Jason Wong to get the puck loose. Sham then stole the puck from Rob Chiu in the corner and as he tried to pass into the slot, a great deflection from Chiu put the puck past a startled Fok for Sham's first of the evening.
AsiaXpats' Allan Yee then found himself wide open on the left with all the time to pick the top corner, YATS defense no where to be found. 3-1
Sham gets another after walking by Chiu again and going in all alone on the right, depositing it 5 hole for his second of the night.
YATS finally replied before the period ended as Art Tam had a nice give and go with Theo Wong out of the corner and Wong put one timer by Martin Jim to keep the score close. 4-2 Xpat after one.
In the second, YATS continued to give up odd man and breakaway chances. However, Stephanie Fok made a number of great breakaway stops and a nice blocker save on Sham as YATS pinched too much. Shortly after, another glorious chance by Allan Yee on the left after Josh Steinhaus fed him only for Yee to miss the open net.
Fok held the fort for YATS only allowing Sham his hat trick goal in the second period. While Martin Jim made a ton of great saves to keep YATS from closing the score. YATS were testing Jim this game but were not getting rewarded.
It seems like the harder YATS tries to score the less they remember defense as Sham gets another 2 breakaways to start the 3rd period for his 4th and 5th of the night, followed by a 2 on 0 between Sham and Chai with Chai scoring blocker side. Sham potted another goal for his 6th before Rob Chiu finally gets one by Jim from the low slot to round out the scoring. Another big loss for YATS, 9-3 this time, and a cloud continues to hover over their defensive concerns.
Stephanie Fok (YATs Engineers) faced 36 shots while Martin Jim (AsiaXpat) faced 25 shots.
Three Stars of the game:
1. Alvin Sham (AsiaXpat)
2. Paul Chai (AsiaXpat)
3. Theo Wong (YATs Engineering)
JOG trying to hang on
Ice Wolves entered this game looking to find some scoring after being shut down in the opener last week, while JOG Sports looked to keep cruising after their easy win over YATS.
JOG's Jason Yip continued where he left off as he had the only 2 goals in the first period and it looked like both teams were playing a tighter defensive game. Ice Wolves were also figuring out their lines as they had everyone back this week. 2-0 JOG after 1.
Hamish Pang looked like his old self this game creating a number of chances including a semi breakaway only to have Keira Mok (LPP) turn aside the 5 hole attempt. But it was Gavino Ng who scored first to make it 3-1 JOG. Pang however finally got his first goal of the season on a breakaway and again 10 minutes later to keep the score close. 3-2 JOG after 2 periods.
The third period continued to be a tight checking affair until Yip completed his hat trick to give JOG some breathing room. Gavino came just millimeters away from getting a goal, but his attempt rang off the crossbar. Pang again was able to work his way thru the JOG defense to score his hat trick goal. 4-3 JOG now. JOG Captain, Bruce Hicks intercepted an errant pass and put a shot by Jerome Lui only to hit the post, keeping it a one goal game.
With about 5 minutes remaining in the game. JOG had a couple power plays but were unable to solve Lui to get the insurance goal. Instead, Pang broke through again for a semi breakaway, making no mistake to his backhand on Keira to tie the game at four shorthanded. Pang tried to do it again near the end of the game but was stopped drawing a penalty.
4-4 after regulation with Ice Wolves starting the OT with a 2 man power play. And wouldn't you know it. It was Pang again with his 5th of the evening, scoring blocker-side top corner for the game winner.
Jerome Lui (Ice Wolves) faced 19 shots while Keira Mok (LPP) (JOG Sports) faced 23 shots.
Three Stars of the game:
1. Hamish Pang (Ice Wolves)
2. Jasper Chow (Ice Wolves)
3. Jason Yip (JOG Sports)
Dads going crazy
RBC was known for their youth, but in this game, it was the DADs that came through, accounting for more than 60% of RBC's goals tonight. A strong start for RBC Lions last week had lots of fans staying to see how the Unicorns would fare against the youngsters.
It took just under 2 minutes for Karl Mok to steal the puck and score unassisted with a top corner marker to make it 1-0. Jovi Wat then continued his hot start to the season scoring twice to round out the scoring. The Unicorns were playing well defensively, but still could not prevent RBC from eventually breaking them down and outshooting them 11-3 in the first.
In the 2nd period, RBC's old guys took over. 1 minute in, Eric Pang passing from the side boards to Danny Chiu cycling thru the slot and wrong footing Arthur Chan for his 1st goal of the year. Shortly after Sherman Chan got his first putting in the rebound after Chan made the initial stop on Karl Mok's shot. Just over 7 minutes later, Christopher Lee made no mistake on the left side tapping a cross ice pass from Wat to get his first of the season. And just to prove it was no fluke, he did it again just over a minute later, this time from a Bob Ngan pass to the same place. Ngan then scored an unassisted goal to round out the scoring. 8-0 after 2 periods. Although the score looked one sided, the Unicorns had more shots in the 2nd (8-11 in shots).
This continued in the 3rd with Leon Mo finally getting a breakaway to start the 3rd, going top blocker to break Keira Mok's shutout bid. The goal caused RBC to attack even more and a few minutes later, Andy Ma finished a pass from Ngan. Jovi Wat scored an unassisted goal as he stole the puck and broke in for another breakaway to get his hattrick, while Eric Pang rounded out the scoring. 11-1 the finals score.
Arthur Chan (Unicorns) faced 38 shots while Keira Mok (RBC Lions) faced 16 shots on the night.
Three Stars of the game:
1. Christopher Lee (RBC Lions)
2. Sherman Chan (RBC Lions)
3. Arthur Chan (Unicorns)
UPCOMING GAMES - October 26 @ Mega Ice
Game 1: JOG vs AsiaXpat @ 8:30pm
Game 2: YATS vs Lions @ 9:30pm
Game 3: Unicorns vs Wolves @ 10:30pm
Remember to find us on:
1. Facebook - SCIHL League (submit a friend's request)
2. Twitter - @OfficialSCIHL
3. iPhone & Android App - "SCIHL" (pull down the screen a few seconds for updates)
For the latest scores, statistics, and game schedule.
4. Instagram - SCIHL
5. Website -
www.SCIHL.com