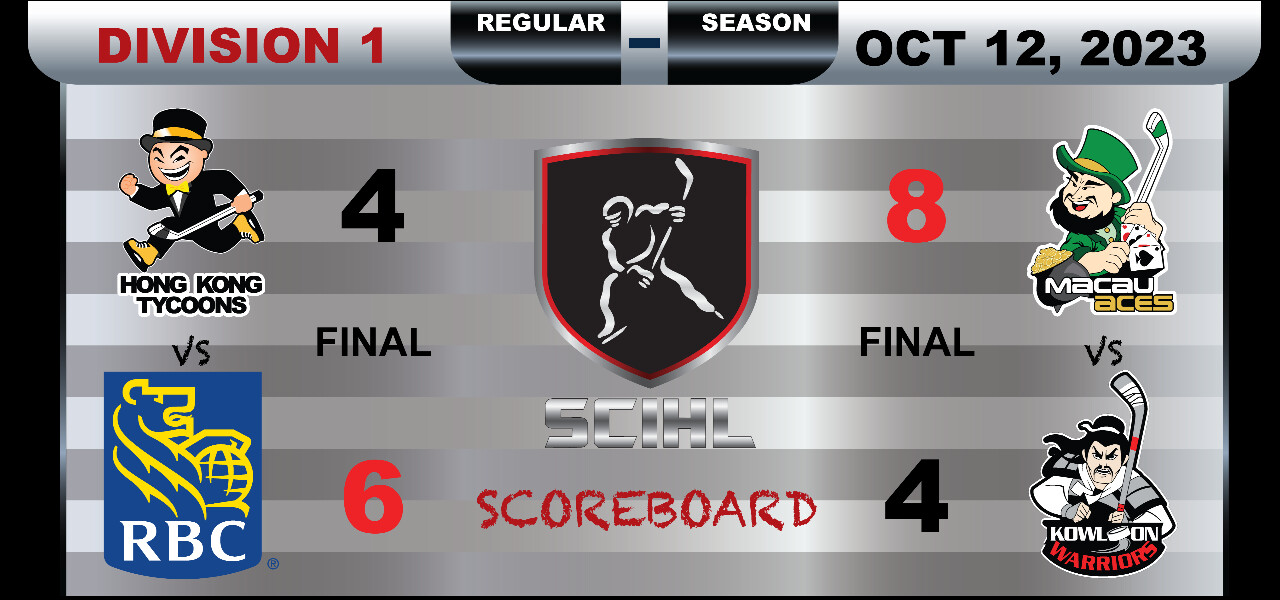 SCIHL Division 1 - Week 2 Scoreboard
October 13th, 2023
Rob Schremp 'Penalty Shot' goal with just over 6 minutes left in the third period was the GWW as the Lions are 2-0 on the season after knocking off the HKBN Tycoons 6-4.
Schremp lead the way for the Lions with 4 points (2G+2A), Ryan Chu added 2 goals and team captain Gregory Smyth had 1G + 1A.
Francis Lam had 2 goals for the Tycoons as they fall to 0-2 on the young season.
The Manulife Aces rebounded after an opening night thumping by providing one of their own as they doubled up AsiaXpat Warriors 8-4.
No shortage of goals as the average goals per game is 10.25 after just 4 games.
UPCOMING GAMES - October 19 @ Discovery Bay Ice Rink
Game 1: Lions vs Warriors @ 8:15pm
Game 2: Tycoons vs Aces @ 9:15pm
Remember to find us on:
1. Facebook - SCIHL League (submit a friend's request)
2. Twitter - @OfficialSCIHL
3. iPhone & Android App - "SCIHL" (pull down the screen a few seconds for updates)
For the latest scores, statistics, and game schedule.
4. Instagram - SCIHL
5. Website -
www.SCIHL.com