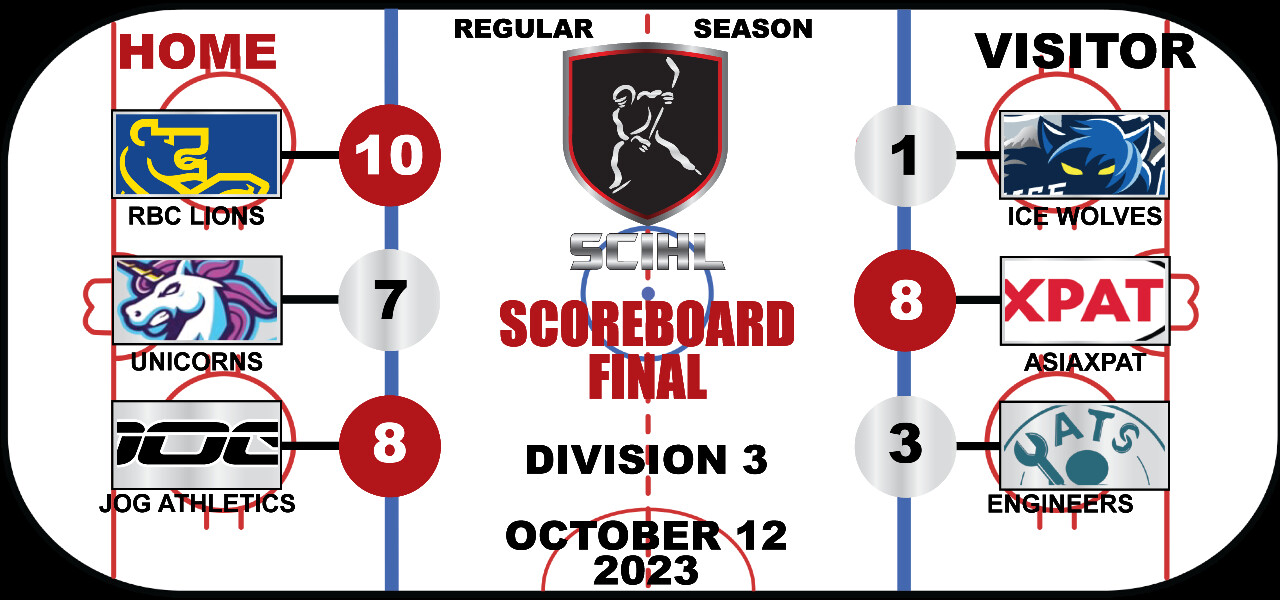 SCIHL OPENING NIGHT - Division 3
October 13th, 2023
Banking on RBC for Goals
Kicking off the 2023-2024 SCIHL Division 3 season were 2 new teams to the SCIHL. In blue are the Royal Bank of Canada Lions - 'RBC Lions' that combines a mix of youth and experience. In the white, are the Ice Wolves, which is a long-standing hockey club in Hong Kong with a tradition of winning.
There were a lot of rumors about the potential scoring power of RBC, and it only took them 21 seconds into the 2023-24 season to open their account. Eric Pang, the captain of RBC leading the way with a quick strike on Jerome Lui, after receiving a beautiful lead pass from Bobby Ngan. RBC controlled the play throughout the first period outshooting the Ice Wolves 10-3.
While the Ice Wolves tried hard to counter-attack, about 6 of the attempts in the first period were breakaways or semi-breakaways that Lui did well to stop, but Jovi Wat was able to score his first 2 of the night, before Eric Pang closed out the scoring in the first with Ngan providing assists on all the goals. 4-0 RBC after 1 period.
The second period followed a similar trajectory with RBC outshooting Ice Wolves 14-5 and Wat scoring 3 more along with Karl Mok picking up 1. 8-0 for RBC after 2 periods.
The Ice Wolves pressed harder and started playing tighter defense on Ngan and was rewarded by an early goal by John Wade to break Kiera Mok's shutout bid, but while pressing for more, they gave up 2 more breakaways to Wat who took advantage of an exhausted Lui to score his 6th and 7th goals of the evening. The game left Lui wondering where his defense was (they were missing both their top defense in Jasper Chow and Chris Wettling), and things can only get better once they are back in the lineup.
Kiera Mok (RBC) faced 14 shots while Jerome Lui (Ice Wolves) faced 33 shots.
Three Stars of the game:
1. Jovi Wat (RBC Lions)
2. Bob Ngan (RBC Lions)
3. Eric Pang (RBC Lions)
Overtime Excursion
Last seasons' defending champions Unicorns were looking to continue their winning ways in the 2023-24 season in new sharp new black jerseys and most of the team returning, while AsiaXpat starts this season with a much revamped roster.
What an exciting game this was for fans watching. Both teams looked quite evenly balanced in the first period, but the Unicorns were first to strike just over 4 minutes in, as Edwin Lau opened the scoring. Less than 2 minutes later, last years' playoff hero - Andrew Rueger finished a nice passing play from Dominic Ng and Leon Mo. Although AsiaXpat outshot the Unicorns 7-4 in the first, the Unicorns held on to a 2-0 lead after 1.
Towards the end of the period, AsiaXpat's Mark Pavey went down awkwardly and had to leave the ice. Preliminary reports have him with an undisclosed upper body injury as Asiaxpat places him on the LTIR list. We wish Mark a speedy recovery and return to play.
That seemed to spur AsiaXpat as they rattled off the next 5 goals in the 2nd period. Captain and GM, Paul Chai leading the way, followed by Alvin Sham with 3 goals for a natural hattrick, and Jimmy Thai rounding out AsiaXpat's 2nd period scoring. The only response from Unicorns was from Rueger with his 2nd of the evening with 10 seconds left after Xpats looked to get complacent at the end of the period. 5-3 AsiaXpat after 2 periods.
The 3rd period started off with a bang. With Dave Lee off for hooking, new comer Grant Phillips scored an early short handed goal with a floater past screened AsiaXpat goalie Martin Jim closing the gap to 4-5. But just 46 seconds later in the same powerplay, Sham got his 4th of the game with a powerplay marker giving AsiaXpat their 2 goal lead again.
Leon Mo, newly acquired by the Unicorns, found himself with a breakaway on rookie goalie Martin Jim and made no mistake to keep the score close. Justin Wong answered again in less than a minute until 'Uncle Rick' Chu scored to pull the Unicorns within one.
With just over a minute left, Leon Mo finished a nice pass from Tracy Wong to even up the score 7-7 setting up the first overtime game this season with the new revised rules. 3 on 3 for 3 minutes, with no icing or offsides, making for an free wheeling affair. Just 24 seconds into OT, Justin Wong broke up a Unicorns attack, and fed a streaking Sham coming down the left wing, who fired a blistering slapshot past an outstretched Arthur Chan giving AsiaXpat
the OT win.
Arthur Chan (Unicorns) faced 25 shots while Martin Jim (AsiaXpat) faced 30 shots.
Three Stars of the game:
1. Alvin Sham (AsiaXpat)
2. Andrew Rueger (Unicorns)
3. Leon Mo (Unicorns)
JOG Sports welcomes YATS to the SCIHL
Long term jersey partner of the SCIHL & CHG - JOG Sports went with a sharp florescent green jersey this year. While the SCIHL welcome's YATS Engineering as the newest sponsor to the SCIHL this season.
JOG Sports started strongly in the first which reflected the strong chemistry their core players had with each other. The combination of Donald Chow, Hugo Fan, Gavino Ng, and Jason Yip would prove to be a thorn in the side of YATs all game. Having said that, YATS with a mixed line up of grizzly vets and rookie players showed number of defensive breakdowns as they struggled to clear pucks out of the zone, breakout cleanly, or keep much zone time in the JOG end of the ice. Their first turnover resulted in Hugo Wong opening his account just 1:11 into the season with a breakaway after stealing the puck just
outside YATs blueline, making a nice move to the backhand to opening the scoring.
While JOG continued to break up YATS attempts to test JOG goalie Loron Orris, Stephanie Fok kept YATs in the game. It wasn't until the last 2 minutes of the first period that Donald Chow forced another giveaway at center ice and scored on his own breakaway to close out the first period 2-0 for JOG Sports.
The 2nd period was more of the same, with JOG's first line of Donald Chow, Hugo Wong, Gavino Ng, Jason Yip, and Kevin Wong having full control of the play - both strong puck possession, and pinpoint passing which after a period of practice, resulted in points on the board in the 2nd period. The next 4 goals belonged the JOG sports in a span of 6 minutes. Jason Yip with his first, a clinical finish top corner short side from the right after getting set free by a beautiful pass from Gavino Ng.
Andrew Rueger (LPP) chipped one in, while Donald Chow and Hugo Fan added 2 more, before YATS Theo Wong finally responded for YATs and finally getting a puck past Orris as he went left to right thru the slot and put a shot against the grain just inside the post with just 5 minutes remaining in the 2nd. 6-1 at this point, and any thought of a comeback was short lived as Jason Yip responded less than a minute later with his 2nd of the night, followed by Chow with his hattrick goal with a minute remaining. 8-1 after 2 periods.
YATS had a short spark in the 3rd scoring 2 goals, Wong with his 2nd and Shane Weir pouncing on a loose puck. But it was too little too late. Final score was 8-3 for the team in green.
Loron Orris (JOG) faced 18 shots while Stephanie Fok (YATS) faced 25 shots on the night.
Three Stars of the game:
1. Donald Chow (JOG Sports)
2. Hugo Fan (JOG Sports)
3. Theo Wong (YATs Engineering)
UPCOMING GAMES - October 19 @ Mega Ice
Game 1: AsiaXpat vs YATS @ 8:30pm
Game 2: Ice Wolves vs JOG @ 9:30pm
Game 3: Lions vs Unicorns @ 10:30pm
Remember to find us on:
1. Facebook - SCIHL League (submit a friend's request)
2. Twitter - @OfficialSCIHL
3. iPhone & Android App - "SCIHL" (pull down the screen a few seconds for updates)
For the latest scores, statistics, and game schedule.
4. Instagram - SCIHL
5. Website -
www.SCIHL.com