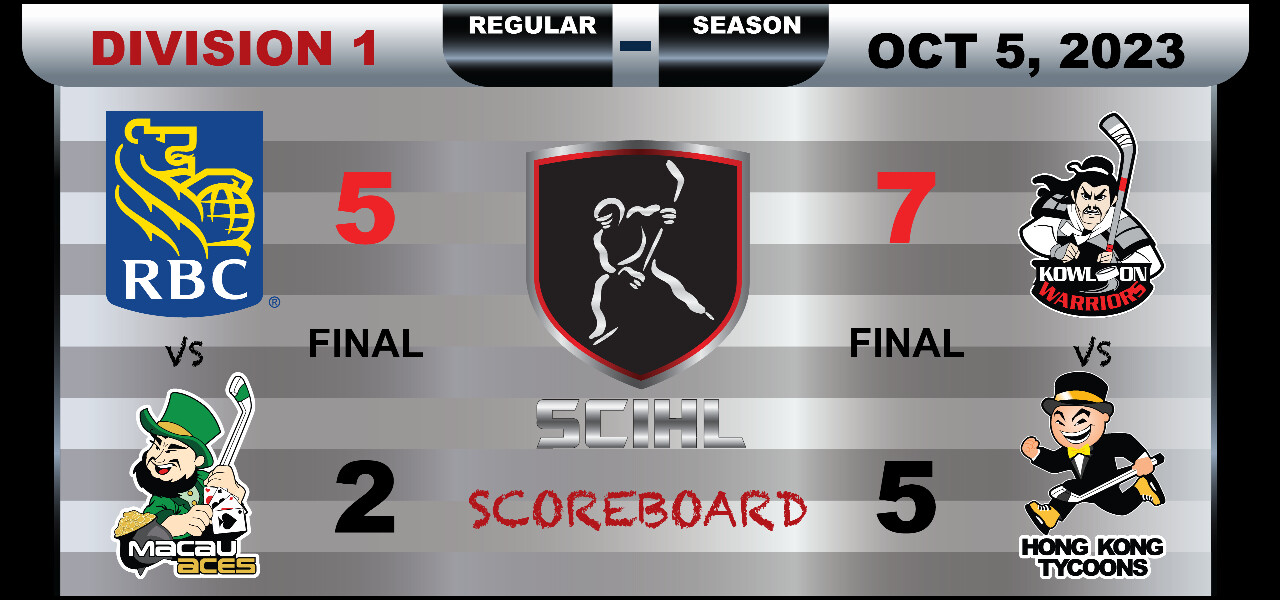 SCIHL OPENING NIGHT - Division 1
October 6th, 2023
The SCIHL 2023-2024 regular season dropped the puck last night and the 'COOLEST GAME IN ASIA' is back for another action packed year.
In the opening game, the RBC Lions, last year SCIHL D1 champions took on the Manulife Aces. The Lions handled the Aces easily by the count of 5-2 and put all teams on notice they are looking to repeat as champs!
Chloe Fong (u18) and Gregory Smyth each had two goals while former NHL player Rob Schrimp chipped in with 4 assists.
Rudolf Bernart playing in his first SCIHL game picked up the win stopping 20 of 22 shots while the business of the two goalies, Craig Gouk got the big L as he turned away 20 of 25 shots.
AsiaXpat Warriors and the HKBN Tycoons squared off in the second game of the night and what a game to end the night.
The Warriors are stacked with D but they put on a display as Ben MacAskill noticed 5 points including a hat-trick while team GM David Belluche added 4 points himself... not a bad opening night for a defensive team.
The game was tied 2-2 after the first, 3-3 after the second and then both team combined for 6 more in the third with Warriors Kevin O'Toole putting the game away with an empty net goal to seal a 7-5 victory.
Antoine Devolz back from his 'Swiss' adventure picked up his first W of the season. Tycoons Evan Thorpe will have to wait another week for his.
UPCOMING GAMES - October 12 @ Discovery Bay Ice Rink
Game 1: Tycoons vs Lions @ 8:15pm
Game 2: Aces vs Warriors @ 9:15pm
Remember to find us on:
1. Facebook - SCIHL League (submit a friend's request)
2. Twitter - @OfficialSCIHL
3. iPhone & Android App - "SCIHL" (pull down the screen a few seconds for updates)
For the latest scores, statistics, and game schedule.
4. Instagram - SCIHL
5. Website -
www.SCIHL.com