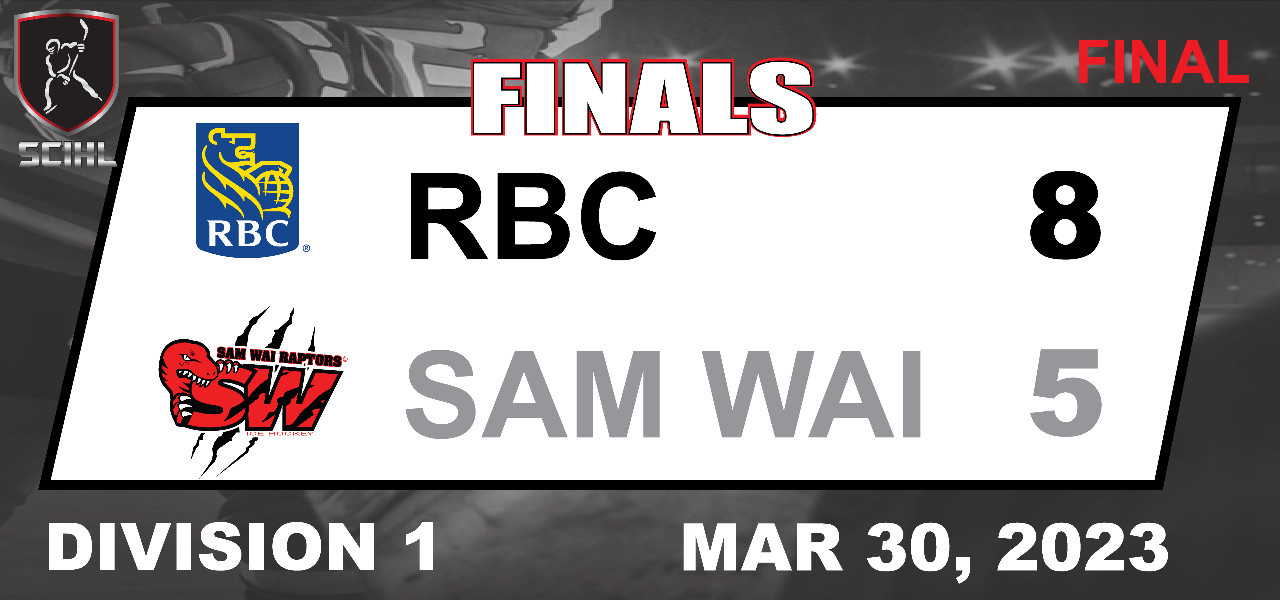 SCIHL Division 1 FINALS - Game Result
Friday, 31 March 2023
RBC Lions - Champions
The RBC Lions defeated the Sam Wai Raptors 8-5 to win the Division 1 Championship. Francis Lam led the way with a hat trick and 2 assists. The Raptors were no match especially with 4 of their top players not able to play the game.
It was 1-1 after the first but the Lions shifted to another gear by scoring 4 goals to start the second period. The Raptors scored a pair before the period ended to give them a glimmer of hope heading into the final period of the season.
In the third, the Lions did not let up and continued their strong play to seal the deal. Lam completed his hat trick while Kentaro Yanagawa and Greg Gough added the other goals.
Game, set, match! RBC Lions are your Division 1 Champions.
Burger Joy's Three Stars
1. Francis Lam (RBC Lions)
2. Jeff Wall (Raptors)
3. Cole Poliziani (RBC Lions)
Remember to find us on:
1. Facebook - SCIHL League (submit a friend's request)
2. Twitter - @OfficialSCIHL
3. iPhone & Android App - "SCIHL" (pull down the screen a few seconds for updates)
For the latest scores, statistics, and game schedule.
4. Instagram -
www.SCIHL.com
5. Website -
www.SCIHL.com