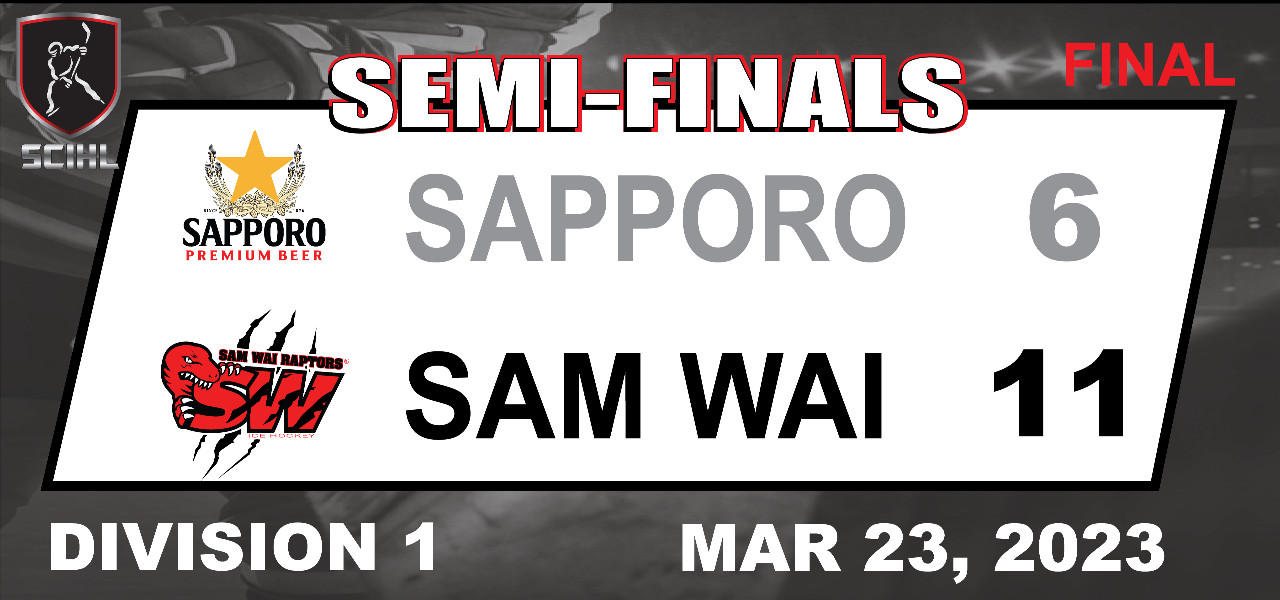 SCIHL Division 1 - Game Result
Friday, 23 March 2023
Raptors Move Past Sapporo
It was heated …. Which means it must be the playoffs! Sapporo started off strong taking a 4-3 lead after the first thanks in large part to Rhett Wilcox's hat trick.
But the Raptors started strong in the second period with 3 goals to take a 6-4 lead. Jeff Griffin got one back only to have Bryan Crane complete his hat trick shortly afterwards for a 7-5 Raptors lead.
Griffin got on the scoresheet again but in the wrong way. After receiving his fourth penalty of the game at the end of the second period, Griffin was ejected putting his team behind the 8-ball. The Raptors took advantage and put a stranglehold on the game with 4 goals in the
third to defeated Sapporo 11-6.
The Raptors now face the RBC Lions in the SCIHL Div 1 Final.
Burger Joy's Three Stars:
1. Bryan Crane (Sam Wai)
2. Jeff Wall (Sam Wai)
3. Rhett Wilcox (Sapporo)
Remember to find us on:
1. Facebook - SCIHL League (submit a friend's request)
2. Twitter - @OfficialSCIHL
3. iPhone & Android App - "SCIHL" (pull down the screen a few seconds for updates)
For the latest scores, statistics, and game schedule.
4. Instagram -
www.SCIHL.com
5. Website -
www.SCIHL.com