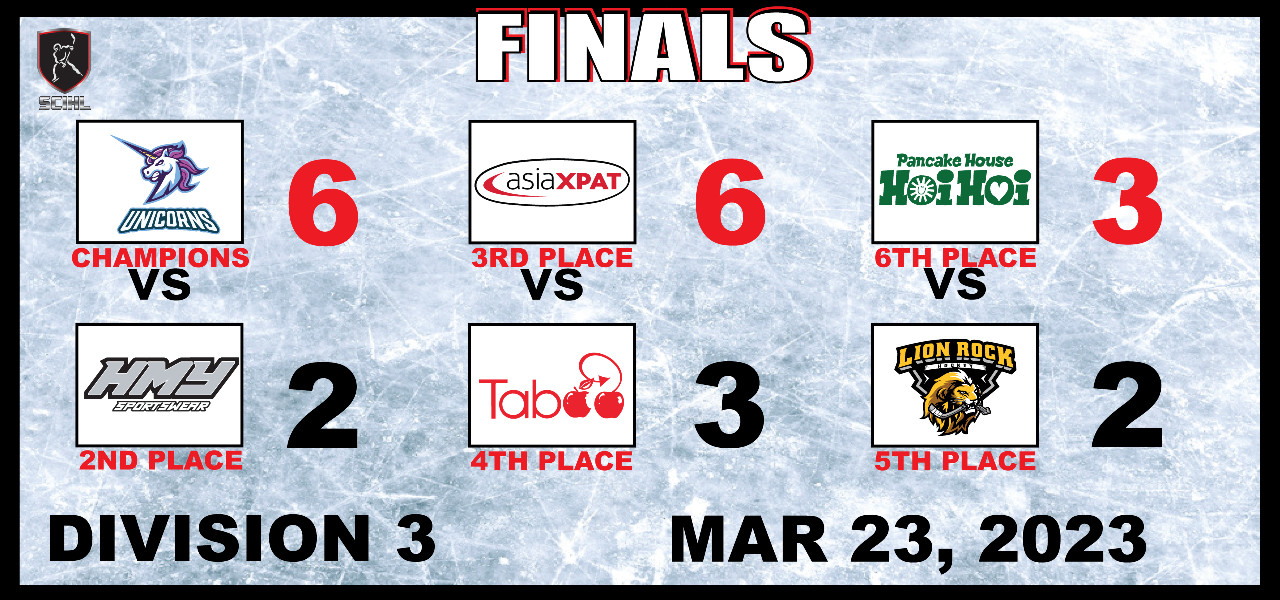 SCIHL Division 3 - Week 17 Game Results
Friday, 24 March 2023
Championship was magical
It does seem that Unicorns have magical properties. From battling for the final playoff spot in the last game of the regular season, beating the top team in the semis, and now facing Homely Sportswear in the final, it was a magical storyline.
Now they just had to win to complete the ending. And did they! Just 1:40 into the first, Clement Liu opens the scoring giving them a much-needed confidence booster against the run of play. The Unicorns were playing a
counterattack game plan - not because they wanted to, but because HMY gave them no choice. Unicorns were playing desperate defensive hockey to keep the shots on net to a minimum. Midway through the first, Andrew Rueger with the hot hand, continued his torrid scoring pace in the playoffs to get a 2-0 lead. This was capped by Arthur Tam with a goal shortly after to make it 3-0 after 1.
Paul Chai replied early in the 2nd on a powerplay goal to give HMY some life. But Rueger scored two goals a minute apart midway in the 2nd to give HMY a body blow and complete his hattrick. 5-1 after 2 periods.
Early in the 3rd period, Kenyon Tse scored short-handed for the Unicorns stretching the lead to 6-1. Donald Chow rounded out the scoring a few minutes later, but HMY were unable to close on the early lead.
Anthony Fiscella faced 15 shots while Bernard Lam faced 26 shots.
Congratulations to the Unicorns on their first SCIHL Championship.
Burger Joy's Three Stars:
1. Bernard Lam (Unicorns)
2. Andrew Rueger(Unicorns)
3. Kenyon Tse (Unicorns)
Bronze goes to Asiaxpat
In the Bronze medal game, Taboo Devils were up against Asiaxpat. The fans were
wondering if Taboo could stop the WWF line, or if the balanced attack on Taboo would win out.
It was a tight-checking game from the start and the entire game was evenly played with chances exchanged on both ends. It wasn't until the last minute of the first was the WWF line able to score. David Finifter with the only goal to give Asiaxpat a 1-0 lead.
Taboo got into penalty trouble midway in the 2nd, and the WWF line made them pay as Jim Wong scored the powerplay goal from the side of the net. 2-0. He then scored a couple minutes later again from a nice centering pass from Michael Wong to make it 3-0. Slowly but surely the possession and cycle game from Asiaxpat were wearing Taboo down. Taboo had several glorious scoring chances over the first 2 periods but were denied by Keira Mok time and again.
In the 3rd, Asiaxpat's Wong Cheung tallied to give a 4-0 lead with 11 minutes to go. Cue the comeback. Taboo finally solved Mok when Jason Yip scored one top corner to give them some life with 9 minutes left. Ernst Tang turned the tables on Asiaxpat and scored short-handed a few minutes later to close up to 4-2. Then Bryan Leung scored with 3 minutes left to make it 4-3. Asiaxpat were on their heels, and you can feel the momentum shifting to Taboo Devils. But could they come all the way back?
After gaining possession, Taboo pulled their goalie and after a few opportunities on net, Asiaxpat finally chipped the puck out of the zone and Michael Wong was able to score an empty-net goal with 1.5 min remaining giving Asiaxpat a much needed insurance goal. 5-3. Michael then capped it with a 2nd empty net goal to complete the scoring and securing Bronze for Asiaxpat.
Edward Lee faced 17 shots while Kiera Mok faced 17.
Burger Joy's Three Stars:
1. Jim Wong (Asiaxpat)
2. Michael Wong (Asiaxpat)
3. Wong Cheung (Asiaxpat)
Remember to find us on:
1. Facebook - SCIHL League (submit a friend's request)
2. Twitter - @OfficialSCIHL
3. iPhone & Android App - "SCIHL" (pull down the screen a few seconds for updates)
For the latest scores, statistics, and game schedule.
4. Instagram -
www.SCIHL.com
5. Website -
www.SCIHL.com