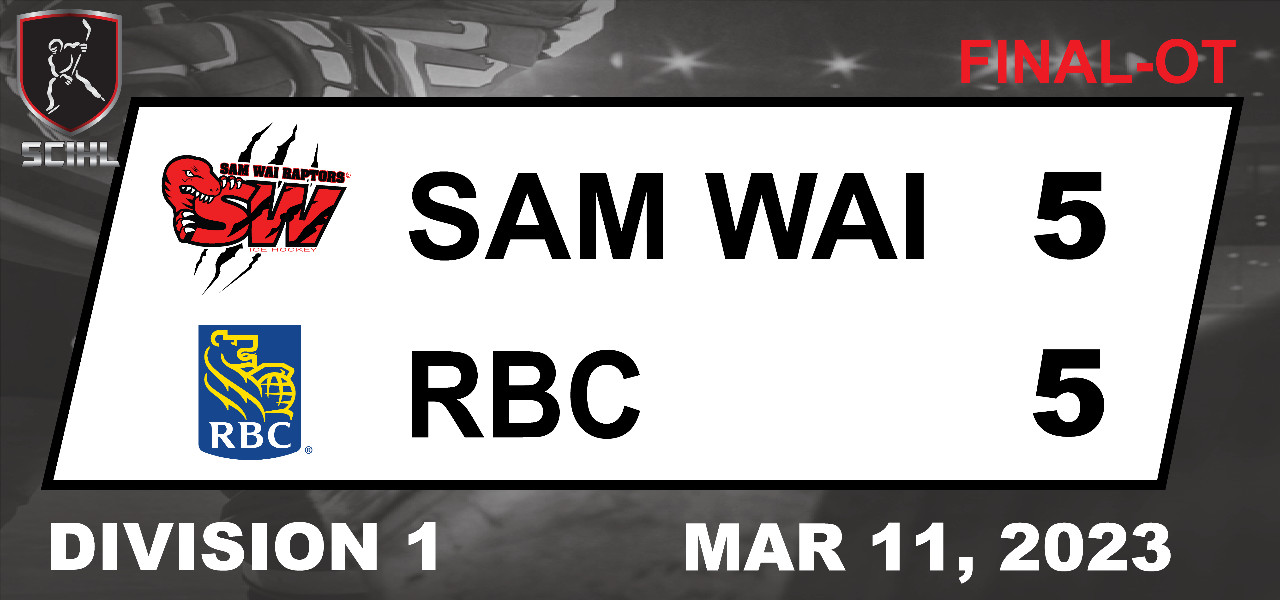 SCIHL Division 1 - Game Summary
Sunday, 12 March 2023
A Tie is a Tie
The Sam Wai Raptors and RBC Lions played to the first tie in the SCIHL since the Tom Barnes era. It was a great comeback from the Raptors as they were down after each period.
The Lions led 3-2 after the first and 5-2 after the second. The third period was all Jeff Wall as he scored a natural hat trick to tie the game up at 5.
Julian Ikeda-Thaw had a strong game as he scored a pair for the Lions. Kevin Rushton stopped 28 while Craig Gouk stopped 19.
Burger Joy's Three Stars:
1. Jeff Wall (Raptors)
2. Julian Ikeda-Thew (RBC Lions)
3. Francis Lam (RBC Lions)
Remember to find us on:
1. Facebook - SCIHL League (submit a friend's request)
2. Twitter - @OfficialSCIHL
3. iPhone & Android App - "SCIHL" (pull down the screen a few seconds for updates)
For the latest scores, statistics, and game schedule.
4. Instagram -
www.SCIHL.com
5. Website -
www.SCIHL.com